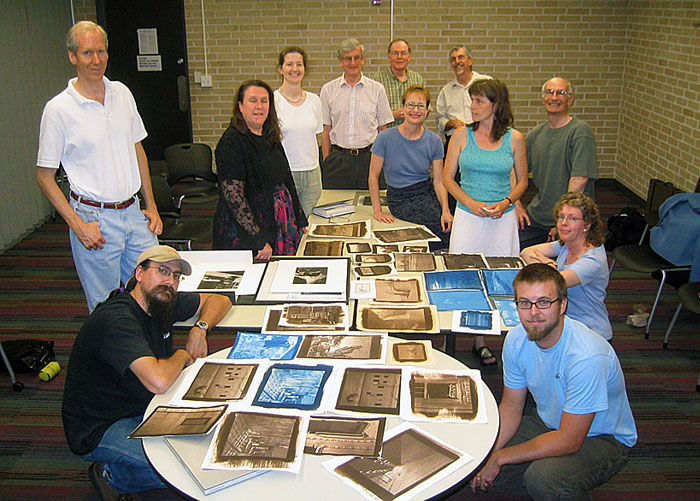 AAPG Meeting, May 2005

Welcome to the Austin Alternative Process Group homepage.
We are an informal group dedicated to learning and disseminating information about alternative and historical photographic processes in Austin, Texas. We meet on the first Tuesday of every month at the Twin Oaks Branch Library, South 5th Street at West Mary, Austin, Texas.

All students & practitioners of historical photographic processes are welcome to join us.
Join our Yahoo Group and get on the mailing list at http://groups.yahoo.com/group/AAPG/.

Articles:
Dry Plate Workshop, by Terry Holsinger
In the Footsteps of Niepce , by Alan Herbert
My First Gum Print, by Gary Nored
Salt Paper Printing--A Beginnerís Notes, by Terri St. Arnauld
The Oil Pigment Process, by Ed Buffaloe
Making Digital Negatives for VDB, by Gary Nored
(Make digital negs with an inkjet printer.)
Papers for Alternative Processes, by S.B. Watkins
(A comprehensive listing of papers suitable for alternative process work.)
The Cyanotype, by Terry Holsinger
Notes on VDB tests, by Ed Buffaloe
Preliminary Notes on Bromoil, by Ed Buffaloe

Group Photos from Various Outings
Gorman Falls Photo Expedition

AAPG Galleries:
Terri St. Arnauld
Gary Nored
Julie Farias
Ed Buffaloe