A Review of the X-Pack by Ed Buffaloe
I have a Tamrac camera bag that has served me well for many years. Its long usage has left me with the lasting impression that Tamrac bags are made to be functional, made to be comfortable, and above all made to last. So I was particularly intrigued when I heard they are now making travel luggage and computer bags.
My partner, Sybil, and I are hoping to travel the world in a few years, and one of the requisites is going to be a notebook computer and a means of carrying it. I have to keep my web site updated, Sybil wants to download her digital photographs, and we both like to keep a travel journal. So I decided to investigate the Tamrac X-Pack, which is a backpack designed to carry a notebook computer, among other things. I donít know whether to call it travel luggage or a computer bag, because it is a bit of both.
The X-Pack is reasonably compact, measuring 14 by 16 by 5.5 inches outside, but I was amazed at how much stuff it will hold. The straps are broad and well-padded--suited, like all their camera gear, to long hours of toting with maximum comfort--and it has a handy carry-handle on top as well.
The padded main compartment will hold the largest notebook computer, along with quite a number of manuals, binders, files, or whatever else you might wish to carry. The compartment is 4.5 inches deep and has two pouches inside it, either one of which will hold a notebook computer, leaving another 2.5 to 3 inches to spare. A portable printer or docking station could also easily be accommodated in this compartment. For the kind of digital photography I have in mind--ruins and petroglyphs--I would probably add a collapsible reflector and a couple of supplementary flashes and slaves.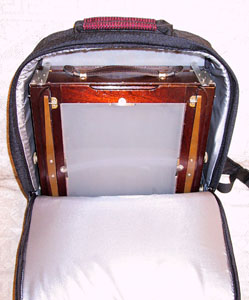 The outer zippered compartment has pockets for everything--CD or Zip drives, discs, mouse, cell phone, compass, GPS, glasses, calculator, whatever. It has a clip that holds a ring of keys, and the fold-down front flap has two large zippered compartments.
There is also an outer pocket with a velcro flap with more storage space for things like glasses, binoculars, cell phone, candy bars, etc. And there is yet another
external elasticised pocket with a bungee cord to hold things like water bottles and insect repellant.
What impresses me most is the versatility of the X-Pack. I think it has a lot of uses Tamrac hasnít thought about yet. For instance, I discovered that my Deardorff 8x10 camera fits perfectly in the main compartment. The zippered compartment will hold my three film holders and a couple of lenses, and I can bungee my dark cloth onto the outside. It is absolutely the most convenient means I have yet discovered for carrying this large format camera, which has always been problematic for me to take into the field.
Tamrac luggage and camera bags carry a lifetime warranty on materials and workmanship. You can find more information and photographs of the X-Pack, as well as Tamracís entire line of travel luggage at www.authentictraveler.com. Tamracís main site for camera bags is at www.tamrac.com.