The next stop for the day was at Grosvenor Arch, which is named after a long-time National Geographic Society president. The arch was impresseive, but we didn't stay long. We were somewhat disappointed to find other tourists there, with small children and teenagers, and my impulse was to leave immediately, but we stayed long enough to take some photographs. The light wasn't particularly good.
A half-hour or 45 minutes past the arch we recognized we were in Cottonwood Canyon--we crossed a stream bed several times and eventually found ourselves driving along a stream lined with cottonwood trees. Their bright green color was a relief to the eyes in the desert wilderness. Several times we almost stopped to look for a camping place, but the side-roads looked extremely primitive and we were still concerned that it might rain. So we drove on, eventually arriving at Highway 89, between Page, Arizona and Kanab, Utah.

Sybil was keen to see an old abandoned town called Pariah (pronounced pa-ree-ah) which was supposedly just off the highway a few miles to the west. We drove through some beautiful country, but found no trace of the town. Apparently, it had been destroyed by flood twice during the years of its habitation. Several movies were filmed on the site, including The Outlaw Josie Wales, but it was obvious that there had been more flooding in recent times, as there was no sign of any movie sets either. It didn't seem to be a very good location for a town.
The day had been very long, so we searched for a nearby place to camp, but the only site we found was in such a drab desert location that Ed couldn't bring himyself to set up camp there. We drove on to Kanab. As so often happens, Kanab, which neither of us had ever heard of, turned out to be a rather interesting place. During the great depression of the 1930's almost everyone was out of work. Being in desperate financial straights, the town sent emissaries to Hollywood to see if they could elicit any interest in making movies in the Kanab area. The mission was successful, and eventually over 40 movies were made in and around Kanab.
We ate supper at a local restaurant whose menu featured a list of all the movies that had been made in the area. Afterward, we drove around town a bit, noting a prominent Mormon church. We stopped in one of the largest rock shops I have ever been in. They had stacks of the Book of Mormon with a sign that said "Free--take one." There were even copies in Chinese. We went back to our motel and watched "Back to the Future" on the television.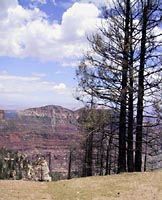 27 June 2000. After taking a few backroads and "shortcuts," at long last we drove down to the north rim of the Grand Canyon where we spent the entire day taking photographs. I was reminded once again how much I long to retire so I can go to such places and spend as much time as I want. Obviously, there is no way to see everything in a day. The land approaching the canyon is beautiful, forested with ponderosa pine and, in the higher elevations, with aspen and white spruce. Near the rim there are also piņon pine and juniper. Initially, we had not thought we would be able to see the Grand Canyon because there had been a huge forest fire on the north rim only ten days before. We saw the devastation it had wrought everywhere, and the national forest campgrounds were closed. 2000 was the worst year for forest fires in the Western United States in 50 years, exacerbated by a severe drought.
The Ancestral Pueblo peoples (Anasazi) built dwellings all along the north rim of the canyon. They grew summer crops in the canyon, then, late in the year, grew a fall crop on the rim. Warm winds rise up from the canyon at that time of year, which help prevent an early frost from ruining the crop. The land isn't very fertile, so they had to move around a lot. Apparently, in addition to Hopi and Zuni, there were Navajo and other tribes living in or near the canyon as well.

We had a drink at the Grand Canyon Lodge, in the Rough Rider Bar, where we saw many photographs of Teddy Roosevelt--it was one of his favorite places to go to escape Washington. They had an excellent selection of beer, and I was able to find a tasty porter from a small brewer. We had a light meal at the Lodge and took photos until sunset, which was quite spectacular. Sybil had a last-minute desire to spend the night in the Lodge, but it was booked up, so we drove northwest to Freedonia, Arizona in order to find a room with a reasonable rate. We found a very pleasant, large room intended for a person in a wheelchair.
28 June 2000. We drove east and south, then west again, to get to the south
rim. It was absolutely crawling with people. The views were spectacular, but we could barely cope with the crowds. We ran into a group of people with some exotic looking radio tracking gear and a lot of expensive camera equipment. We learned that they were tracking the California condors that had been released from captivity some months before. The condors all wear radio transmitters. We followed them for a time, hoping to catch a glimpse of a giant condor, but we never saw one. Supposedly, they were hanging out at the Visitor's Center, but there were too many people to even try toget near that place. We worked our way along the rim and took photographs until mid-afternoon. At that point, Ed was getting claustrophobic due to the crowds of people, so we drove south to Phoenix, where we have friends. We arrived in a heavy rainstorm at about 9 PM and awoke to a rainbow over the Supersition Mountains...a perfect ending for our trip.