Despite our detours, we arrived at Natural Bridges National Monument around 11:00 a.m. It quickly became apparent that we weren't going to be able to see a tenth of the park in the time we had allotted. We ate a quick lunch before hiking into the canyon to photograph the first natural bridge on the tour. The hike was so strenuous that we skipped the rest of the park But that is not to diminish in any way the beauty and grandeur of the area--it is gorgeous country, and we plan to go back there someday and try to do it justice.
We left around 2:30 and drove north on Highway 95. The highway crosses the the upper end of Lake Powell once the Colorado River. Glen Canyon which was flooded by the Glen Canyon Dam was said to be as awesome as the Grand Canyon. We drove up on a high vantage point to see what we could see of this enormous lake and it is impressive. However, I was reading Desert Solitaire by Edward Abbey for this trip. It was sad to think of the beautiful canyon he described beneath all that water. There is something strange about that enormous amount of water juxtaposed with the barren rock desert. The country we drove through was some of the most desertified we have ever seen. Sybil says that some of the Bureau of Land Management land has been badly overgrazed in modern times, but most of the Canyonlands area through which we drove was desert long before the white man came. There are widely-spaced, low, scrubby plants, but no trees, no cactus, no creosote... In the middle of this desert is Hanksville . We had intended to drive all the way to Capitol Reef National Park, but we ended up in Hanksville. We drove right past Fern's Place Motel, but the attraction was too much for me. I was tired and didn't feel much like driving, and I certainly didn't feel like camping, so we turned around and took a room at Fern's Place.
Fern has an acre or more of land with all sorts of old farm machinery around the periphery. The yard is scattered with old washing machines, toilets, and other odd items full of colorful petunias. I doubt it rains much in Hanksville, but they must have a plentiful water supply from somewhere. The cottages are cooled by evaporative coolers. Ours had a couch, a queen bed, a cooking plate, and a refrigerator stocked with ice cubes. We felt right at home. I took a shower. We set up our camp stove on the front porch to cook pork chops and squash. (We highly recommend Ferns Place Motel, and I promised Fern we would put her on the internet, so here's the info: P.O. Box 181, Hanksville, Utah 84734. 435-542-3251. Get your reservations early.)

25 June 2000. We slept until 6:30, made tea and coffee, took more showers, and ate a light breakfast. I went out to photograph the farm equipment, which included an International Harvester Tractor, a lot of John Deer equipment, including some originally designed to be pulled by horse, and a couple of McCormic Farmall Tractors. We hit the road around 9 a.m.
As we drove out Highway 24, heading west, I remarked on the dead landscape. I had done the same thing the day before, but west of Hanksville we found areas with virtually no vegetation. It was so striking Ed decided to pull over and take a photograph, then Sybil suggested we drive down a dirt road and take a closer look at the country. What we saw was a whole lot of nothing. Well, not exactly nothing. There were miles of mostly bare soil and eroding hills with very little vegetation. Quite beautiful in its own way. We drove north for quite a ways, and all we found was a camp with two pickups and some ice chests--on the way back we saw two people riding dirt bikes way up the side of the mountain. We found the desolation awe-inspiring.
We backtracked and resumed our journey on Highway 24. As we drove into Capitol Reef National Park the landscape changed dramatically. The highway runs through a lovely canyon with a creek and pine trees. We stopped along the road to photograph some petroglyphs. Ed met a fellow from Houston and exchanged business cards with him. However, except for a short detour to a scentic view, we didn't explore the park any further and left it for next time.

At Highway 12 we turned south and drove up into the Dixie National Forest. In some of the high country there were only aspens. At the southern edge of the national forest, we stopped briefly at Anasazi Indian State Park, a small ruins site where they had excavated a large kiva.
As we continued on into the Grand Staircase Escalante National Monument, we turned off to a trailhead leading down to Upper Calf Creek Falls. This was rough, desolate-looking country with a lot of rocks and few trees. The trail to the bottom of the canyon was very steep. Ed found it beautiful, but difficult to photograph in black and white. A light rain fell as we hiked down, cooling us somewhat, but the sun was quite intense when it burst through the clouds.
As we had observed so often in Utah, if you looked at this area from the highway you would think it was virtually devoid of life and life-giving water, but way down at the bottom of the canyon was running water and an oasis of trees and other plant life. We saw lots of birds and squirrels in the area. We reached the top of a cliff over which a little stream fell about 50 feet to the canyon below and decided not to descend any further, as it would have taken more time and energy than we felt we had. I wished I could have hovered in the middle of the canyon to photograph the falls, but the best I could do was lean out over the edge as far as I dared. The hike down took 25 minutes; the hike back up took 55 minutes. We both carried water and snacks, and wore our hats and were very happy we had.

After the hike, we drove down through beautiful mountains to a campground at the Calf Creek Recreation Area. The small campground was almost full--there were only two empty spaces. Nestled in the bottom of the canyon with thick shrubs and a few trees, the campground was very pleasant and quiet. The light rain continued intermittently as we set up our tent and cooked supper.
26 June 2000. The next morning it was raining when we woke up. I had slept very well. The rain continued for over an hour, so I wrote in the journal: "I continue to be struck by how quickly the landscape can change. In the desert Southwest you can go from desert to forest in a matter of minutes by either ascending a mountain or descending into a canyon. Mountains and the higher elevations are usually forested, and the canyons and valleys, where water collects, likewise possess trees and shrubs. The Ancestral Pueblo people often chose canyons where there was a steady water supply in or near which to build their dwellings. In this country you may think you are in a barren desert, but often a 30 minute hike will take you to running water and shade trees."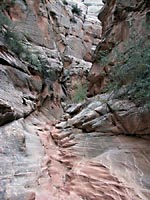 We had intended to make a long drive through Grand Staircase Escalante National Monument, along Kaiparowits Plateau, and possibly camp in the wilderness, but the forecast was for rain and we were concerned that the road would be impassible. Another consideration was that it was a very long drive, and the road ends at Lake Powell, so we would have had no choice but to return by the same route. In the end, we took a shorter route through Grand Staircase Escalante, from the town of Henrieville, through Cottonwood Canyon, to Highway 89. But first we stopped in Henrieville and bought some supplies.
Our first stop along the way was Kodachrome State Park...yes, it was sponsored by Kodak. Kodachrome has some unusual rock formations in desert pastels, but the sky was quite overcast so we didn't linger there for long. Sybil took a few photos, but I felt that with the light as it was my black and white would be wasted. I would really like to go back to many of the desert places we visited with a stereo camera sometime. We drove on, and the road, which had been gravel for a while, got worse, though not impassible for our Jeep.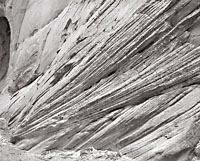 Eventually we came to a place that seemed remarkably isolated--we hadn't seen anyone else at all on the road--and we pulled over to eat some lunch there. After eating we got out to look around a bit. There was a ravine that led down into a canyon, and I could see a clear way down, so we decided to explore it. The canyon was very high walled and narrow--perhaps not a slot canyon, but near enough for our tastes. We found a place where someone had camped once, but saw no other trace that humans had been there. It was very still, very isolated, and quite beautiful in a desolate sort of way. We hiked into the canyon for several miles, taking photographs along the way.