Defensive Revolvers for Concealed Carry
by Ed Buffaloe
This article is by no means intended to argue that revolvers are superior to self-loading or "automatic" pistols, but I would suggest that a revolver may be more the more appropriate choice for personal defense for the vast majority of people. In his book In the Gravest Extreme: The Role of the Firearm in Personal Protection Massad Ayoob argues that revolvers are more suitable for "amateurs" and automatics are more suitable for "experts" or "professionals." Watching a person who is unfamiliar with an automatic pistol handle one will convince you very quickly that they (and everyone around them) would be safer with a revolver. My personal belief is that only very well trained individuals should carry automatic pistols. Far too many people go out and buy a high-end automatic pistol, but never get enough training or practice to understand it fully or operate it safely--most of these people should be carrying revolvers.
1. Colt Agent.
2. Charter 2000 Undercoverette. 3. Colt Detective Special. 4. Smith & Wesson 642.
5. Charter Arms .44 Bulldog. 6. Ruger SP101. 7. Smith & Wesson 37.
I would add that the double-action on a good revolver is is often superior to that on many automatic pistols, particularly the cheaper ones. There are many single-action-only automatic pistols, but I would further argue that they are dangerous in the hands of poorly-trained persons. With practice, a revolver can be reloaded with a speed-loader almost as fast as an automatic.
Another advantage of revolvers over auto pistols is that it is much easier to change the grip in order to fit your hand. There are a few auto pistols today with adjustable grips, but these are the exception rather than the rule. A grip that fits properly and gives the correct reach to the trigger is critical for accuracy.
Colt Agent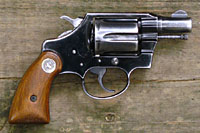 Colt's made four snub-nose .38 Special revolvers: the Detective Special, the Cobra, the Agent, and the Commando Special. The Detective Special had a steel frame. The Cobra was the same gun with an alloy frame. The Agent had the alloy frame and a slightly smaller grip size. The Commando Special had the small grip on a steel frame. The Agent was introduced in 1955. In 1972 it was redesigned to have a shrouded ejector rod. My Agent was made in 1963 and weighs 15 ounces unloaded and 18 ounces when loaded with 158 grain bullets. The big advantage of the Colt over other snub-nose revolvers is that it holds six rounds. It is comfortable to carry and shoot, and the standard wood grips fit my hand reasonably well. +P cartridges are not recommended for the aluminum-frame Agent. Marshall and Sanow state that the most effective standard-velocity .38 Special cartridge is the Federal Nyclad 125-grain semiwadcutter hollowpoint, but these are no longer available. There is however a plethora of new defensive cartridges on the market--I would recommend the 110 grain Hornady Critical Defense or the 110 grain Federal Hydra-Shok hollow points. The Colt Agent is one of my favorite carry revolvers because it is so light. Its single- and double-action trigger pulls are among the best in the business--smooth, light, and crisp.
Charter 2000 Undercoverette
The Charter 2000 Undercoverette shoots the .32 H&R Magnum cartridge, the modern-day equivalent of the old .32-20. The .32 bullet is smaller than the .38, but the H&R Magnum cartridge is loaded to higher velocities, so the muzzle energy is generally about the same, or slightly greater than, the standard-velocity 158 grain .38 cartridge. Unfortunately, there is no information available on the relative stopping power of the .32 H&R Magnum. However, the cartridge produces nearly twice the muzzle energy of a .32 ACP. Weighing 19 ounces, I find the Undercoverette easy to carry and easy to shoot. It is suitable for people who are recoil-sensitive. The double-action trigger is not bad--though perhaps not as smooth as a Smith & Wesson, which is generally considered the best. I've thought about putting a reduced-pull hammer spring in the Undercoverette, but haven't done so yet. The company has been re-named Charter Arms again since this gun was made.
Colt Detective Special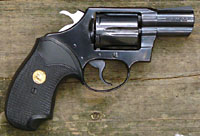 The Detective Special is considered to be the Cadillac of snub-nose .38 revolvers. First manufactured in 1926, with a squared-off grip and no ejector shroud, the gun was originally called the Police Positive Special, but was soon given the Detective Special designation. In 1934 the grips were changed to have a rounded toe and heel. The early Detective Special weighed 21 ounces. In 1972 the entire gun was redesigned and given a heavier barrel and the full-length ejector shroud shown here. The gun could be had with wooden grips or ergonomic Pachmayr rubber grips. I find the Pachmayr grips fit my hand perfectly and absorb the heavy recoil of +P rounds. Constructed of steel, the new design, at 25.25 ounces, is actually slightly heavier than the stainless steel Charter Bulldog, but is smaller in size and easier to carry. Like all Colt revolvers, it holds six rounds. The gun was rated for limited +P use so it is recommended that you practice with standard velocity rounds and carry +P for self defense. The weight of the Detective Special enables it to absorb the recoil of +P rounds better than any other snub-nose examined in this article with the exception of the Ruger SP101, and it has a superb trigger.
Smith & Wesson Model 642
This is the most advanced evolution of the J-frame Smith & Wesson .38. It has an alloy frame and the shortest grip and barrel of any gun featured in this article. The 642 weighs only 14.6 ounces as configured here with laser grips. It is rated for +P rounds, though its light weight and small grips makes the recoil from +P rounds difficult to control. I would personally stick with standard velocity .38s. Even with the recommended standard velocity ammo the gun can be difficult to control for some people. The concealed hammer double-action-only design makes for snag-free draws from concealment, and the 642 has Smith & Wesson's excellent double-action trigger pull. I find that the small grips fit my hand better than I thought they would. The laser is cool--I'm not sure how useful it is at close range where you don't really have time to aim anyway, but it has a certain psychological impact when the bad guy sees a laser dot on his chest. This gun is small enough to fit in a pocket or a purse.
Charter Arms .44 Bulldog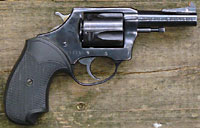 The Bulldog first appeared in 1974 and was touted as the largest-bore revolver small enough and light enough for concealed carry. It was based on the company's .38 revolver frame, designed by founder Doug McClenahan to be the smallest, lightest steel frame .38 in the world. The Bulldog frame is essentially the same length and height as the .38 frame, but enlarged as necessary to accommodate the .44 Special cartridge and a slightly larger cylinder. Most remarkable is that the Bulldog was created with a steel frame and weighs only 18.5 ounces with its original grips installed. The one-piece frame design (with no side plate) is quite strong, and the Charter Bulldog has earned an excellent reputation for durability and reliability. However, a gun this powerful and this light can hardly be said to be pleasurable to shoot due to its relatively heavy recoil.
It requires an experienced shooter to recover and get a second shot off quickly. Mag-na-porting may help, and you can also choose lighter bullets, like one of the many 200 grain bullets now available. The original wood grips fill the hand nicely, but many shooters replace them with one of the two excellent rubber grip styles offered by Pachmayr, which help to absorb recoil. The original Bulldog came with a 3-inch barrel and is best concealed with an inside-the-waistband holster. The gun was also offered in a stainless steel frame that weighs 25 ounces. Charter Arms closed briefly in 1998, but re-emerged as Charter 2000 at the turn of the millennium, and was renamed Charter Arms again in 2002. The new Bulldog line features a 2.5 inch barrel, a stainless steel frame with a full-length shroud for the ejector rod, and rubber grips. The new gun weighs a remarkable 21 ounces. The best defensive load for this gun at the time of writing, and also one of the most comfortable to shoot, is the 200 grain Winchester Silvertip.
Ruger SP101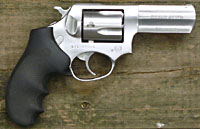 The SP101 in .357 Magnum is one of the most powerful and effective self-defense guns covered in this article. It is the heaviest small frame revolver (though it only outweighs the Colt Detective Special by about 2.5 ounces), has serious recoil with .357's, and may be difficult to control for inexperienced shooters. Like the Charter Bulldog, the SP101 has a one-piece frame and is well-known for its strength and reliability. The original rubber grips help to absorb recoil, but they don't fit my hands. The gun shown here has had the larger Hogue Rubber Monogrip installed. A .357 round typically generates 25% more muzzle energy than a comparable .44 Special or .45 long Colt round. In actual gunfights, the .357 has the highest percentage of one-shot stops of any handgun cartridge, though not everyone is able to shoot it effectively. The 3-inch barrel is best concealed inside the waistband. The SP-101 is available in a number of different versions, including a .357 with a 2.25-inch barrel, a .38 Special +P version, and a six-shot .327 Magnum version, which has somewhat less recoil.
Smith & Wesson Model 37
The Model 36 is the original steel J-frame Smith & Wesson in .38 caliber, and the Model 37 is the same gun in an alloy frame. Either gun is available in any number of barrel lengths. The Model 37 with the 3-inch barrel (shown here) weighs 18 ounces and the Model 36 weighs 24 ounces. I think this gun offers the best combination of carryability and shootability of all the guns featured in this article, with the possible exception of the Colt Agent. The lighter Model 37 recoils a bit more, but is quite controllable with standard velocity ammunition. Marshall and Sanow state that the most effective standard-velocity .38 Special cartridge available (as of 1992) is the Federal Nyclad 125-grain semiwadcutter hollowpoint. I would recommend the 110 grain Hornady Critical Defense or the 110 grain Federal Hydra-Shok hollow points. The 3-inch barrel conceals well in an IWB holster, and the Smith & Wesson has an excellent trigger. This gun is extremely accurate from 10 feet right on out to 30 yards (shooting single action). Its primary drawback is that it only holds 5 rounds.
Smith & Wesson Model 60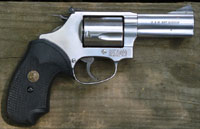 The Model 60 appeared in 1965 and was the first production stainless steel revolver made by S&W. It is a slightly enlarged J-frame with an elongated cylinder that is chambered for the powerful .357 Magnum cartridge. The Model 60 will also shoot .38 Special and .38 Special +P cartridges. As with the Ruger SP-101, controllability can be an issue, but if you can manage the recoil this is a very well-made, accurate gun with a superb trigger, and is one of the best choices for personal defense. It weighs just under 26 ounces, has an adjustable rear sight, and holds 5 rounds. According to Marshall & Sanow, in actual gunfights, the .357 has the highest percentage of one-shot stops of any handgun cartridge.
Colt Lawman Mark III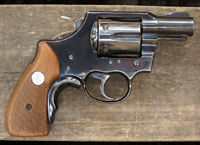 The Colt Lawman Mark III appeared in 1969. The one shown here is an early model with no ejector shroud. At almost 33 ounces empty, it is among the heaviest reviewed here and has the largest cylinder diameter. However, if you are able to carry it, the weight helps absorb the recoil of the powerful .357 cartridge. Most of the Lawman series came with a 4-inch or 6-inch barrel, but a few were made with a two inch barrel, as shown here, making them relatively concealable. The Colt trigger is very smooth, and the Lawman has a wide hammer spur for ease of cocking. The gun is shown with a T-grip adaptor, which makes it fit the hand a little better, but for shooting .357's I would prefer to install a rubber Pachmayr grip like the one on the Detective Special. As noted above, the .357 magnum is considered to be one of the most effective cartridges available for self defense.
Dan Wesson Model 15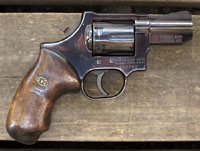 The Dan Wesson .357 revolvers, designed by Karl R. Lewis, were available in a number of different barrel lengths, the shortest of which is 2.5 inches. The first time you cock the hammer on one of these guns you may think there is something wrong with it. The hammer pivots on a longer radius than other revolvers, so it feels a bit awkward compared to the Colts and Smith & Wessons we are more accustomed to. But the long radius means the hammer has a short throw, and this short throw means the Dan Wesson revolvers have excellent double- and single-action trigger pulls. I hate to say it, but I prefer the Dan Wesson to my Colts. The positioning of the hand is critical to work the double-action on these guns, and so a grip that fits the hand is an absolute necessity. Fortunately, a multitude of grips were available for the Dan Wessons, so it is usually possible to find one to suit you. I bought a large grip on E-bay and used a Dremel tool and sandpaper to shape it to fit my hand. The gun is very heavy (35.7 ounces fully loaded), but it is extremely accurate. The majority of Dan Wessons were available with interchangeable barrels, so you can have longer barrels for hunting and target practice, and shorter barrels for concealed carry. My preference would be for a 3-inch barrel, but they never made one, so the 2.5-inch will have to do.

Please be a responsible gun owner.
Know your rights and responsibilities.
Handle and store your guns safely.
Other Options
There are so many revolvers on the market today that I can't begin to mention them all. Taurus makes a full line of revolvers, including many small enough and light enough for concealed carry, and Rossi still makes several revolvers in .38 Special and .357 Magnum. Taurus and Rossi revolvers both approach the quality of the more expensive Smith & Wesson guns, and are quite accurate and reliable. Charter Arms also makes a selection of fine revolvers.
There are many older revolvers still available in smaller calibers, such as .32 Smith & Wesson, .32 Smith & Wesson Long, and .38 Smith & Wesson. I do not generally recommend that people use such revolvers, and particularly not the older top-break revolvers. The cartridges in the above calibers have been loaded down for many years so that they will not damage top-break revolvers. However, many solid frame revolvers will handle much hotter loads than are normally available.
.32 Colt Pocket Positive
The Pocket Positive was available with both a 2.5-inch or a 3.5-inch barrel, and shoots the .32 Smith & Wesson Long cartridge. With standard loads it is anemic. However, Buffalo Bore now has a 100 grain hard-cast wadcutter for which they claim 900 feet per second. In tests with my Pocket Positive with a 2.5-inch barrel the Buffalo Bore ammunition averaged 859 feet per second, giving 164 foot-pounds of muzzle energy, twice that of a .32 ACP. Generally, I would prefer an ammunition that has been tested for effectiveness, but this level of energy is comparable with standard velocity .38 Special ammunition, and should certainly be better for self-defense than any .22 caliber ammunition. There is considerable anecdotal evidence that wadcutters are very effective for self defense. Loaded with six rounds, the gun weighs 19.3 ounces. I have added a modern grip (from a Smith & Wesson J-frame) to the gun shown here, but the original grip would be suitable for a person with small hands. If you buy one, be sure it is labeled to shoot the .32 Police cartridge (identical with the modern .32 Smith & Wesson Long), NOT the .32 Colt, which is essentially an obsolete cartridge.
.22 Caliber Revolvers
A .22 caliber would not be my first choice for self defense, but it would not be my last choice either. It is definitely better than a .25. Marshall and Sanow state: "Gelatin results indicate that the .22 Long Rifle and .22 Magnum can be far more destructive and effective than perceived by the general public. Both .22 rounds easily have the penetration necessary to be lethal." The .22 Long Rifle is particularly suitable for persons sensitive to recoil. Most .22 revolvers will hold more rounds than a larger-caliber pistol, and they are also very cheap to practice with. Smith & Wesson makes an excellent line of 8-shot .22 Long Rifle and 7-shot .22 Magnum revolvers in the small J -frame. These guns will have the best trigger you can get on a .22. Taurus and Charter Arms also make excellent .22 revolvers suitable for concealed carry.
High Standard Sentinel
The High Standard Company made a line of .22 revolvers that are worthy of mention here, including a snub-nose version of the Sentinel. The snub-nose Sentinel has a one-piece aluminum frame and weighs just over 20 ounces. The double-action trigger pull on the Sentinel is heavy and might not be suitable for some females or for disabled persons. The hammer on some, but not all, snub-nose Sentinels is bobbed, but has serrations on top to allow it to be manually cocked. The Sentinel is extremely well made and can handle the hottest .22 rounds available. According to Marshall and Sanow, the best .22 self-defense rounds are hyper-velocity loads such as the Remington Yellow Jacket or the CCI Stinger. High Standard Sentinel revolvers can still be found used for reasonable prices.
Rossi Princess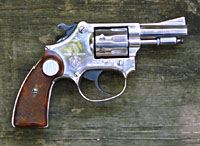 The Rossi Princess is a tiny little revolver based on Smith & Wesson's third-model Ladysmith, but with a transfer bar for greater safety. These guns were only imported for two or three years prior to the Gun Control Act of 1968, and hence are relatively scarce in the U.S. They can still be found occasionally, albeit at inflated prices. The Princess shown here is so small I can cover it with my hand. It holds seven rounds. The double-action trigger is not great, but should suffice at close range. I think it would be feasible to practice with standard velocity ammo and carry hyper-velocity .22 rounds, such as the CCI Stinger, for self defense. I'm not certain I would shoot the hot rounds all the time.
| | | | | | | |
| --- | --- | --- | --- | --- | --- | --- |
| Gun | Caliber | Rounds | Barrel | Length | Cyl. Dia. | Weight |
| Charter 2000 Undercoverette - Stainless Steel | .32 Magnum | 5 | 2" | 6.75" | 1.3" | 19.05 oz |
| Charter Arms Bulldog - Alloy Frame | .44 Special | 5 | 3" | 7.8" | 1.456" | 21.3 oz |
| Charter Arms Bulldog - Stainless Steel | .44 Special | 5 | 3" | 7.8" | 1.456" | 24.9 oz |
| Colt Agent - Alloy Frame | .38 Special | 6 | 2" | 6.8" | 1.41" | 15 oz |
| Colt Detective Special - Steel Frame | .38 Special | 6 | 2.1" | 7" | 1.41" | 25.25 oz |
| Colt Lawman Mark III - Steel Frame | .357 Magnum | 6 | 2.1" | 7.4" | 1.56" | 32.85 oz |
| Dan Wesson Model 15 - Steel Frame | .357 Magnum | 6 | 2.5" | 7.8 | 1.54 | 32.6 oz |
| High Standard Sentinel - Alloy Frame | .22 Long Rifle | 9 | 2.37" | 7.2 | 1.37" | 20.3 oz |
| Rossi Princess - Alloy Frame | .22 Long Rifle | 7 | 2" | 5.8" | 1" | 11.5 oz |
| Ruger Sp-101 - Stainless Steel | .357 Magnum | 5 | 3.05" | 7.8" | 1.35" | 27.6 oz |
| Smith & Wesson Model 36 - Steel Frame | .38 Special | 5 | 3" | 8" | 1.3" | 23.95 oz |
| Smith & Wesson Model 37 - Alloy Frame | .38 Special | 5 | 3" | 8" | 1.3" | 17.7 oz |
| Smith & Wesson Model 60 - Stainless Steel | .357 Magnum | 5 | 3" | 7.9" | 1.8" | 25.85 oz |
| Smith & Wesson Model 642 - Alloy Frame | .38 Special | 5 | 1.85" | 6.35" | 1.3" | 14.6 oz |